The Anonymous Hacktivists group, who recently again gained limelight because of their new online stunt, have openly declared war against Islamic State militant group (ISIS). They have announced to launch their "biggest operation ever" that is being called - 'IDIOTS' to take down the terrorist organization that has claimed full responsibility of the horrific act in Paris last week.
Anonymous IDIOTS: Who are They?
Though it's still a mystery why they have named their latest mission as IDIOTS, it surely isn't for themselves. Till now they have made successful attempts against giant names like the CIA, international governments, the Vatican, Ku Klux Klan (KKK) and the Westboro Baptist Church. With these past missions / attacks / hacks being huge success, ISIS now knows better that this war is anything but a joke. That's why they are actively spreading the word on how to prevent getting hacked by Anonymous.
Also Read: ISIS Militants Linked to Paris Attacks had a Bitcoin Wallet worth $3 Million
ISIS Suffers the First Attack from Anonymous
Since the launch of their operation, anonymous have claimed to hit over 5,500 pro-ISIS Twitter accounts in Operation Paris #OpParis. Also, in the past, several members of this Hacktivists group allegedly claim to have taken down various ISIS influenced websites and social accounts disrupting their digital presence and recruitment efforts.
The Atlantic reports, there were over 46,000 Twitter accounts affiliated with ISIS with an avg. of 1000 followers.
ISIS Online / Social Media Propaganda
Terrorist organization ISIS is known for their huge influence and manipulating tactics on trending social networks like Facebook and Twitter, where they leverage young people into disturbing the world peace. They also have a strong hold over Telegram where they are preaching to more than 100,000 followers through encrypted messages.
NBC reports, ISIS also provides a 24/7 Jihadi help-desk service for its foot soldiers recruit, spread message and launch attacks throughout the world.
So, How Will Anonymous Defeat ISIS?
By striking a hit to their most popular communication medium - the social media - Anonymous has already left an impact.
Though we are still struggling to find an out-of-the-box idea to eradicate this terrible organization from the face of this earth, but for the time being Anonymous is doing a great job by attacking their planning and transmitting platforms.
Apart from their social media activities, Anonymous is also running Distributed Denial of Service" (DDoS) to completely shut down the ISIS-affiliated websites.
This is the new 'How-to" Hacking Guide by Anonymous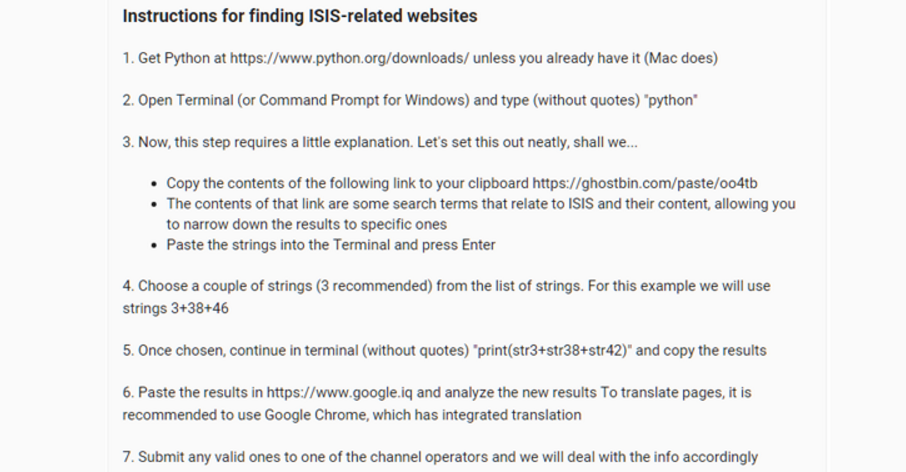 Seems like the Anonymous group is really driven to fight the Islamic State, as they have also launched a newbie "Hacking Guide" for wannabe hackers who can join hands to obliterate this toxin from roots.
An Anonymous member wrote, "Instead of sitting idle in the channel or lurking around and doing nothing, you can benefit greatly from the different tools and guides that have been provided to you. Your contribution means a lot and we encourage you to partake in all of the Op's activities if you can, the more the merrier,"