Anonymous Hackers target website of Russian court that sentenced Pussy Riot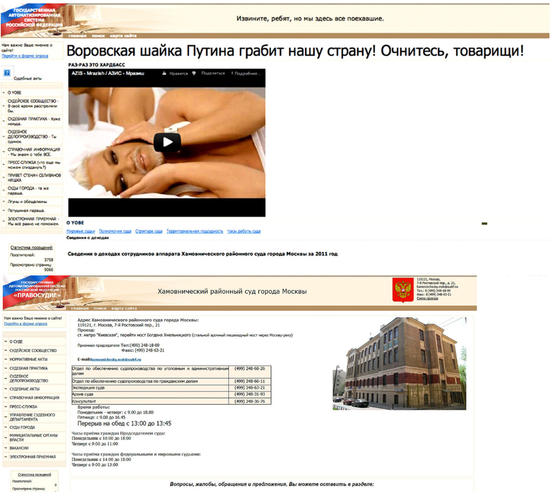 The website of  the Moscow district court that sentenced three members of the band Pussy Riot to jail has been attacked by hackers posting anti-Putin messages. As well as the anti-Putin slogan Anonymous Russia posted an appeal for the band's release as well as a video clip of one of the band's songs.The slogan read: "Putin's thieving gang is plundering our country, wake up comrades!"
In a message posted on the website, the hackers said the in Russian that : We are American group Anonymous. We don't forget and we don't forgive. Justice system has to be transparent. Pussy [Riot's members] are alive.
Another caption called for the release of the band's jailed members - Nadezhda Tolokonnikova, 22, Marina Alyokhina, 24, and Yekaterina Samutsevich, 30. Jude Marina Syrova said that the women had grossly violated public order and "deeply insulted the faith of the believers with their disrespectful criminal act" when they took over a church pulpit in Moscow's Christ the Savior cathedral to stage an anti-Putin protest.
During the demonstration, which lasted under a minute, the group performed a song and appealed to the Virgin Mary to "drive Putin away".The women's sentencing has been roundly criticised by the international community.
Hackers said they had also brought down websites belonging to the justice department and Department for Work and Pensions in the attack.
Anonymous said on Twitter on Monday that it aimed to take down a number of British government websites as part of a campaign called "Operation Free Assange," warning: "Gov. of UK expect us!"