European Commissioner laptop Hacked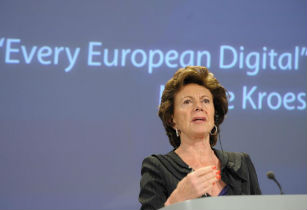 Neelie Kroes, the European Commissioner for the Digital Agenda, has claimed that when they were taken to a government conference in Azerbaijan their laptops were hacked .
The attacks allegedly took place at the hotel that Kroes and EC staff were staying at and they were alerted by security warnings from Apple.
The allegations were made in a blog post written by Kroes on Azerbaijan but they opposed the allegations by claiming that they were made to undermine the image of the country.
"I wondered for a very long time whether I should attend this week's Internet Governance Forum in Baku. But in fact many of the dozens of journalists, bloggers, and human rights defenders I met here thought it was helpful," said Kroes.
However Kroes did not meet any prisoners and alleged that "activists were harassed at the internet conference. My advisers had their computers hacked."