Google buys Online Malware Multi Scanner VirusTotal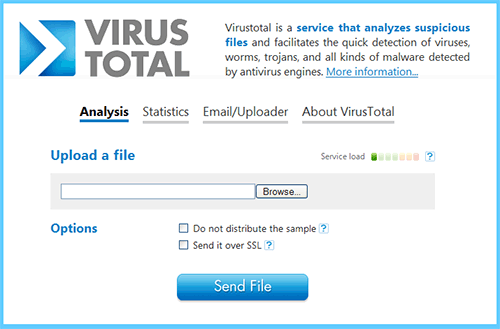 Google on Friday said it acquired online virus-scanning service, VirusTotal, a provider of a free service that detects computer viruses and other malicious software in files and websites.VirusTotal, company based in Spain with only a handful of employees, performs the free service by pooling data from scores of "antivirus engines, website scanners, file and URL analysis tools," according to its site.
Users only have to head to the online tool, select the file from their desktops, and the system is supposed to take care of the rest. The maximum file size currently supported by the service is 32MB.
In a blog post on Friday, VirusTotal reps asserted that the merger is good news for consumers and bad news for malware generators for the following two reasons: The quality and power of our malware research tools will keep improving, most likely faster; and Google's infrastructure will ensure that our tools are always ready, right when you need them.
"Our goal is simple: to help keep you safe on the web," VirusTotal said in the post today. "And we've worked hard to ensure that the services we offer continually improve. But as a small, resource-constrained company, that can sometimes be challenging. So we're delighted that Google, a long-time partner, has acquired VirusTotal."
VirusTotal was set up in 2007 and uses over 40 different antivirus engines to scan files and URLs for malware for free. Users can upload small files for checking, or just input a URL, to see if it's on a blacklist, and VirusTotal shares its results with other security vendors to allow them to beef up their defenses.
VirusTotal will continue to operate independently and maintain existing partnerships with other antivirus companies and security experts.Neither Google nor VirusTotal have revealed any further plans about how this might affect Google services, but it is possible that VirusTotal's solutions could be integrated throughout Google Apps to protect users against malicious files shared through Gmail and other programs.