The 47-year old WikiLeaks co-founder has been sentenced for 50 weeks of prison. The man behind WikiLeaks was found guilty of breaching the Bail Act last month for which he has been slammed by a London court. He jumped bail back in 2012 when he took refuge in Ecuador's Embassy in London to avoid extradition to Sweden. The latest Julian Assange news states he has been charged with sexual assault allegations, which he has always denied. Assange has a relationship with complex legal travails and they are not going away anytime soon. To complete prosecution in their country, the United States is seeking Assange's extradition. They are expecting an initial hearing for the same request on Thursday. However, Sweden officials have hinted possibilities that Assange could face criminal charges in that country as well.
Assange is charged for hacking into the Pentagon computer network 9 years ago. According to a federal indictment, Julian Assange helped him hack into the federal computers and download classified information illegally in 2010. The information was mostly about wars in Afghanistan and Iraq. It was made public on WikiLeaks but Assange has denied the hacking charge.
The famous 2010 Pentagon records leak was made possible by the Army private Chelsea Manning, who was earlier known as Bradley Manning. The Army personnel went on to serve around seven years in prison for this. According to Manning, Julian Assange not only published the leaked information but also helped Manning to hack into the secure Federal system and get these reports out. The WikiLeaks co-founded however, never accepted any of these charges. He has always avoided his extradition to Sweden since that will send him to the USA.
Currently held in Belmarsh Prison in East London, Assange, proclaimed that he shouldn't be jailed for the offense. According to Assange, he was imprisoned in the embassy effectively.
However, on Wednesday, Judge Deborah Taylor of the Southwark Crown Court in London rejected his claim.
According to a British news organization, she told Assange, "It's difficult to envisage a more serious example of this offense." "By hiding in the embassy you deliberately put yourself out of reach, while remaining in the U.K, " she added further.
The court also heard an apology letter from Assange before he was sentenced which stated that he was "struggling with difficult circumstances."
Assange's Full Apology Letter
"I apologize unreservedly to those who consider that I have disrespected them by the way I have pursued my case.
This is not what I wanted or intended.
I found myself struggling with terrifying circumstances for which neither I nor those from whom I sought advice could work out any remedy.
I did what I thought at the time was the best and perhaps the only thing that could be done - which I hoped might lead to a legal resolution being reached between Ecuador and Sweden that would protect me from the worst of my fears.
I regret the course that this took; the difficulties were instead compounded and impacted upon very many others.
Whilst the difficulties I now face may have become even greater, nevertheless it is right for me to say this now."
According to some British news reports, he said, "I did what I thought at the time was the best or perhaps the only thing that I could have done." He further added, "I regret the course that that has taken."
The judge, Deborah Taylor, said that this has fairly affected the Swedish proceedings and by continuing his residency here and bringing him justice has cost $16m to the taxpayers.
"Whilst you may have had fears as to what may happen to you, nonetheless you had a choice, and the course of action you chose was to commit this offense," she concluded.
While Assange was taken down to the prison, he raised a fist to his supporters waiting for him in the public gallery with 'free Julian Assange' posters. The supporters didn't take the decision that well as they started shouting "shame on you" towards the court. Wikileaks editor-in-chief Kristinn Hrafnsso was also present the hearing and he called it an "outrage".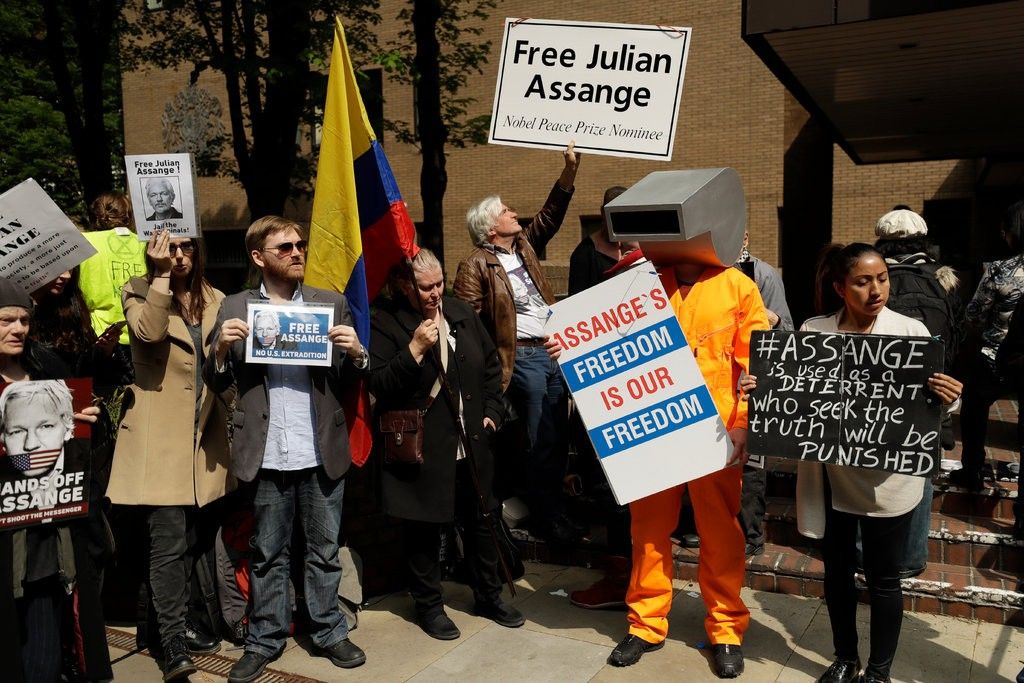 Assange's Current Situation
Julian Assange is a man belonging to the internet culture. He has divided popular opinions in the past. There are people who support him and look up to him as a martyr for free speech and then there are others who look at him as a publicity-seeking criminal who has strong connections with Kremlin.
The latest update on Julian Assange clearly indicates his forthcoming fight with extradition. So we can expect his saga to continue.
He is now charged for US federal conspiracy of the largest confidential government leaks. But it depends on the UK whether to extradite him to the US for the allegations made on Assange by a former US intelligence analyst Chelsea Manning.
Julian will face up to five years of prison in the USA if found convicted.