Amidst this universal gloom of Coronavirus pandemic panic, all of us are looking forward to some much needed ray of hope. Be it the ultimate invention of a vaccine or a little kindness from a stranger, we should all do our bit to help even a single soul. Tech giants, Apple and Google have taken the cue and are leading a necessary research to build COVID-19 contact tracing technology for iOS and Android phones everywhere.
Along with health organizations and government bodies playing their part in finding Coronavirus solutions, Google and Apple have taken it upon themselves to provide a preventive technology in the meanwhile. This joint operation will focus primarily on the Bluetooth technology and will enable smartphone users to reduce the health scare and spread of novel Coronavirus.
After this recent announcement the world is putting their trust in these global brands, and are naturally surrounded by many questions. We, at Hack Reports, also received tons of enquiries and requests on the same, so in today's article we'll try to answer them in a quick, crisp and meaningful manner for you. Let's begin:
What is Contact Tracing?
Time and again, the world has been exposed to widespread epidemics of infectious diseases. In such cases, tracking the whereabouts of the infected or anyone they come in contact with, becomes the highest priority. These individuals are then kept in contact and quarantined if necessary to avoid the global breakout. This whole process is known as Contact Tracing and is mostly carried out by health professionals or administrative officials.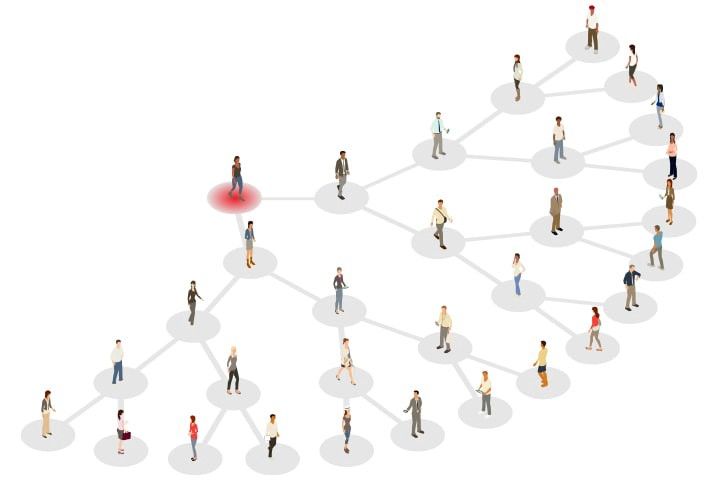 Google and Apple have joined forces to create an Application Program Interface (API), that will help with tracking the affected beings and trying to keep everyone safe.
Will this be a Mobile Application?
This is sort of an emergency project for the companies and the world. That's why it will be rolled out in 2 Phases. In Phase 1 the APIs will be integrated in some selected Public Health organization's existing/ new applications. So yes, here you'll have to register into these mobile apps. In Phase 2, all iOS and Android phones will have tech integrated into Apple and Google's respective operating systems for much smoother transactions. So this will eradicate the need for any application.
How will the Apple/ Google Coronavirus Tracing Tech Work?
You'll need to input your Covid-19 medical details in the required application. If you'll be in the close range of another person (with a similar app), your phones will exchange an anonymous tracking identification key, registering that you've been in contact. If right then or later any one of you enters positive results into the app, the other person will be notified and prompted to get tested. This technology is being built around the Bluetooth Low Energy (BLE) signals where the user's personal details like name, location etc. will remain hidden.
To put it simply about how the process should work in an ideal environment, we've broken it down into following steps:
Covid-19 spreads with close proximity infections
So to put a stop on its spread, we need to avoid contact especially with those already infected
Because the world cannot function with everyone staying indoors 24x7x365, it was vital to create a contact-tracing method that will help you identify if you've come in contact with an infected person
If the app shows an alert that you may have been contaminated, then you can get checked
If the tests are positive, you should go in self-quarantine and treatment until recovery, while others can go about doing necessary work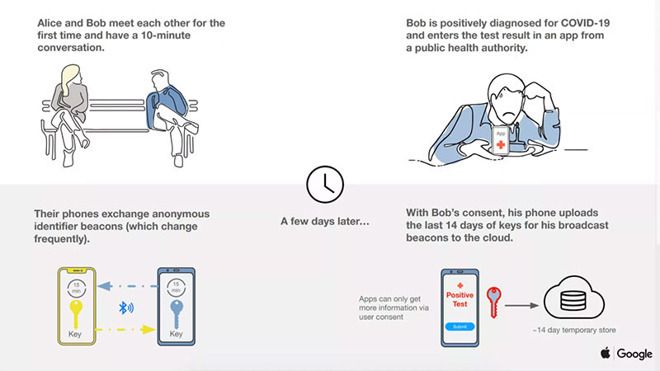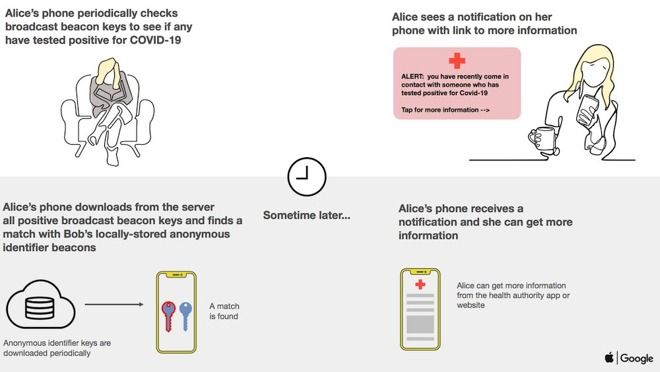 At What Distance Will the COVID Tracking Bluetooth Work?
According to the official report, the smartphone users with Coronavirus contact tracing app should be at a maximum of 15 Feet or closer distance. This gives users ample room to avoid and still be notified of any suspicious body. But the bluetooth wireless technology might take a few  minutes for the exchange to complete.
How Will Apple & Google Verify Positive Covid Diagnoses?
Since the spread of Coronavirus, a lot of new scams are coming to light, reminding us to be cautious of the tricks hackers play, especially in the digital world. That's why the aware population is concerned about trolls who might misuse this functionality to create chaos.
To this, the brands have not given a detailed explanation on how this would work, but have assured us that the public health agency teams associated with Apple and Google will verify all positive diagnoses submissions on the official apps before sending any alerts.
Will Our Private and Medical Data be Safe with Apple/ Google?
Some cybersecurity experts have raised concerns over privacy and data usage by the giant corporations. Since the app will be installed and used by most of the world population, it is very important that its creators safeguard their sensitive information.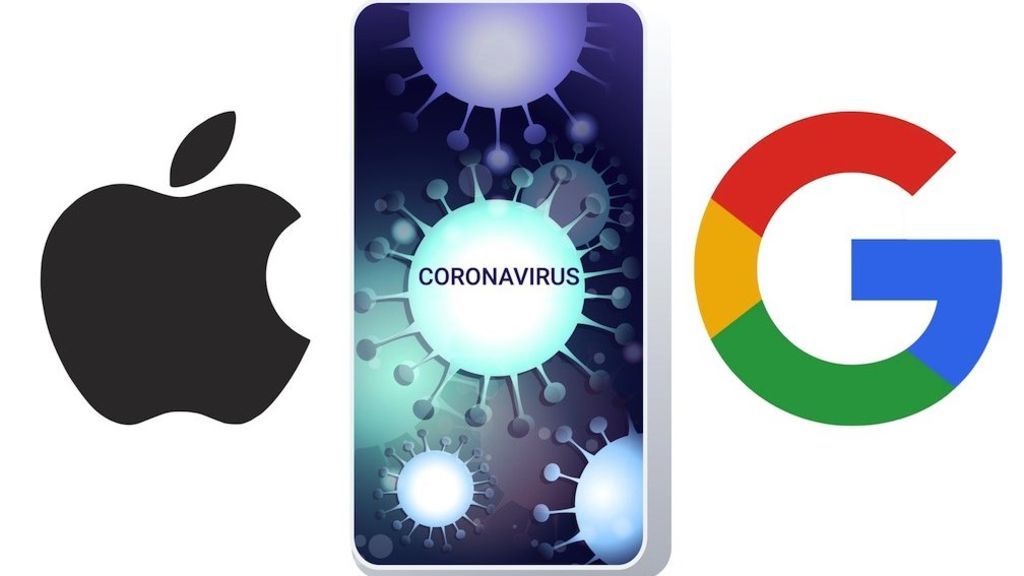 On this, the official representatives have defended that users' personal data will not be shared or stored anywhere except for the public health authorities. Therefore, there will also not be any third party apps employing or featuring this data.
When will COVID-19 Tracking Technology be Launched?
This contact tracing technology will be made available to global public in two steps:
Phase 1: No date has been set in stone yet. But if all goes according to the plan, the APIs will be rolled out mid-May. This will help wirelessly exchange information between devices using certain public health apps only.

Phase 2: The tech minds behind the concept won't stop there. It is expected that the development, revisions and updates will continue in the months to follow. The tech might also be made available for other OS and brands.
What If I don't Want to be a Part of the Coronavirus Tracing System?
This process is completely optional, but for world health and safety purposes we'd suggest you to use it. But if you've your own reasons, then it's pretty simple. During the Phase 1, don't install the specified mobile apps. During Phase 2, your OS will show a setting to toggle on/ off the 'Contact Tracing', just leave it turned off and you'll still be able to use your phone normally.
Has There Been Any Previous Experiment with Such Technology?
Not before Coronavirus, but earlier this year governments of Singapore, Israel, South Korea and more have been regulating its citizens and their safety through the use of similar technologies. The response of the general population and its effects have been noted to be "largely positive". So we can only hope that this new revelation by Apple and Google will result in a positive outcome.
We hope we were able to answer most of your questions related to COVID-19 contact tracing technology by Apple and Google. Please feel free to comment below for any missing queries, and we'll do our best to answer you as soon as possible.  

Here you can read the official press releases from Apple and Google, along with the technical key documentation.
---
Update: May 5th, 2020
What Will the Public Health Authority App Look Like?
In the first week of May, 2020 Apple and Google released the potential user interface of what the 'Exposure Notification app' could look like. This gives us a much better understanding of the coronavirus tracking app flow. Let's take a look: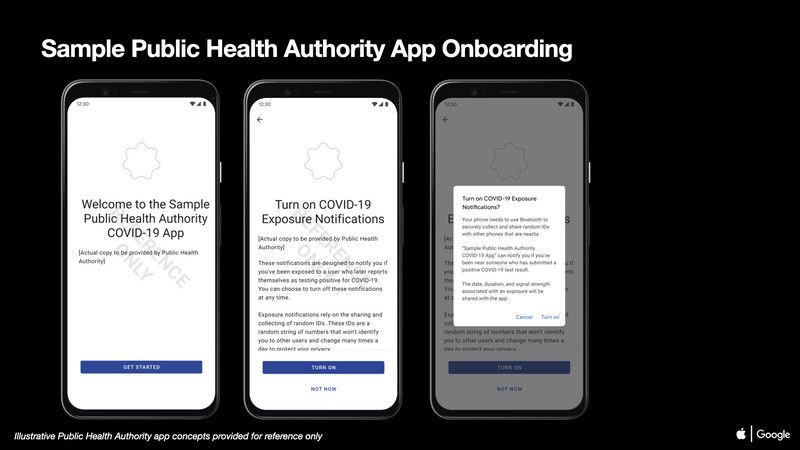 Will this App Misuse my Location Tracking Information and for How Long?  
On May 4th, 2020 both organizations confirmed user privacy in all forms is their first concern. To ensure this, their Public Health COVID-19 applications will not be using or collecting data through GPS, but only function on the required bluetooth technology. This is to prevent any government or other bodies from collecting and misusing the citizen data.  
In another report, Apple and Google also revealed that the applications will be only used to track coronavirus pandemic and thus will shut down once the world recovers from it.