With the world under a pandemic attack and everyone surviving one day at a time, all that anyone should focus on is kindness and ways to help each other out. But malevolent hackers and online scammers never seem to take a day off. This time around they have taken an interest in the Trump administration.
Though vindictive or otherwise fraudulent activities have been a repeated misconduct in the name of White House, this time the scammers have crossed a line by playing with people's emotions during such a sensitive time. Recent reports state that some phishing emails have been circulating around the USA under the false pretense of Donald Trump, Mike Pence and other Republican officials.
This revelation came from an email security organization named INKY, where they unfolded the latest presidential-level tricks used by these cyber criminals.
Fake Coronavirus Emails from Donald Trump, White House
Yes, you read that right!
The scam emails look professional and legit with authentic information in the first glance, and talk about the current real-world problem Coronavirus. They share information regarding quarantine, Covid-19 guidelines to stay safe, and even IRS tax relaxations. There are reportedly 2 phishing emails posed with the name 'Veronica Robinson' from White House, whose subject lines read:
President guidance for coronavirus
The White House instruction for coronavirus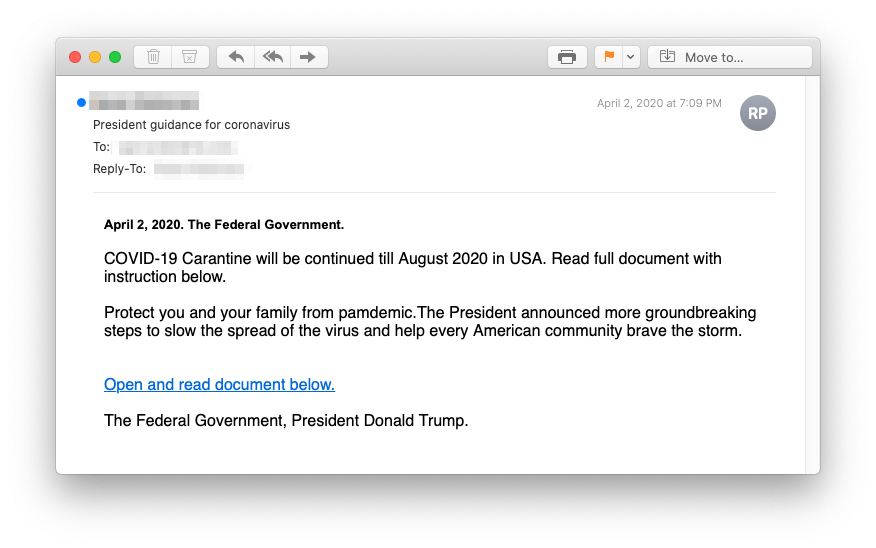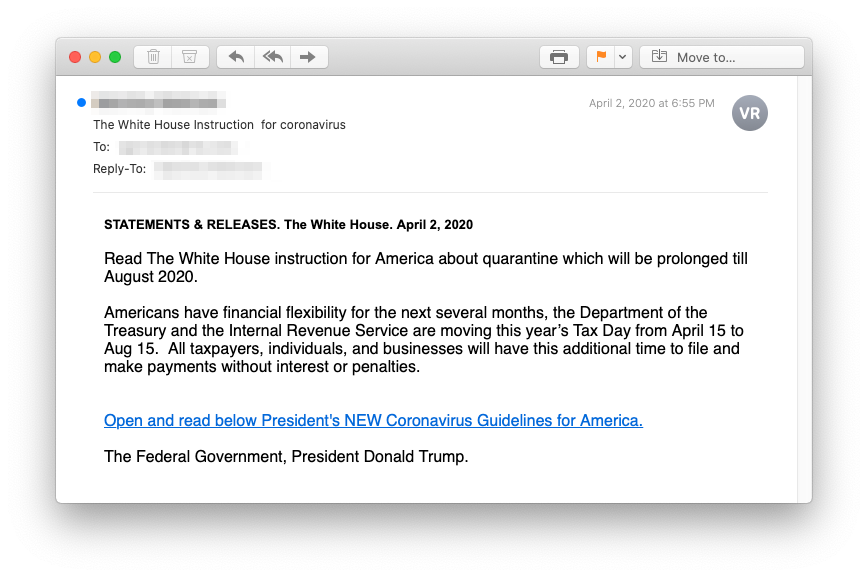 If you read the emails carefully, you'll realize the writer is not a native english speaker citing some spelling and grammatical errors like 'carantine' and 'pamdemic'.
The Real Threat Behind the False Covid-19 Emails
The highlighted corrupt links in the emails actually take you to an exact replica of the official White House website with a featured Call-to-Action button 'Download and Read Full Document'. This link was the main goal behind the attacker's whole campaign, as instead of downloading a report, it paved the way for a malicious malware to crawl into your computer.
The fake website (now removed) looked so authentic that it could've fooled anyone. This was because instead of creating one, the scammers simply copy-pasted the HTML/CSS code of the original.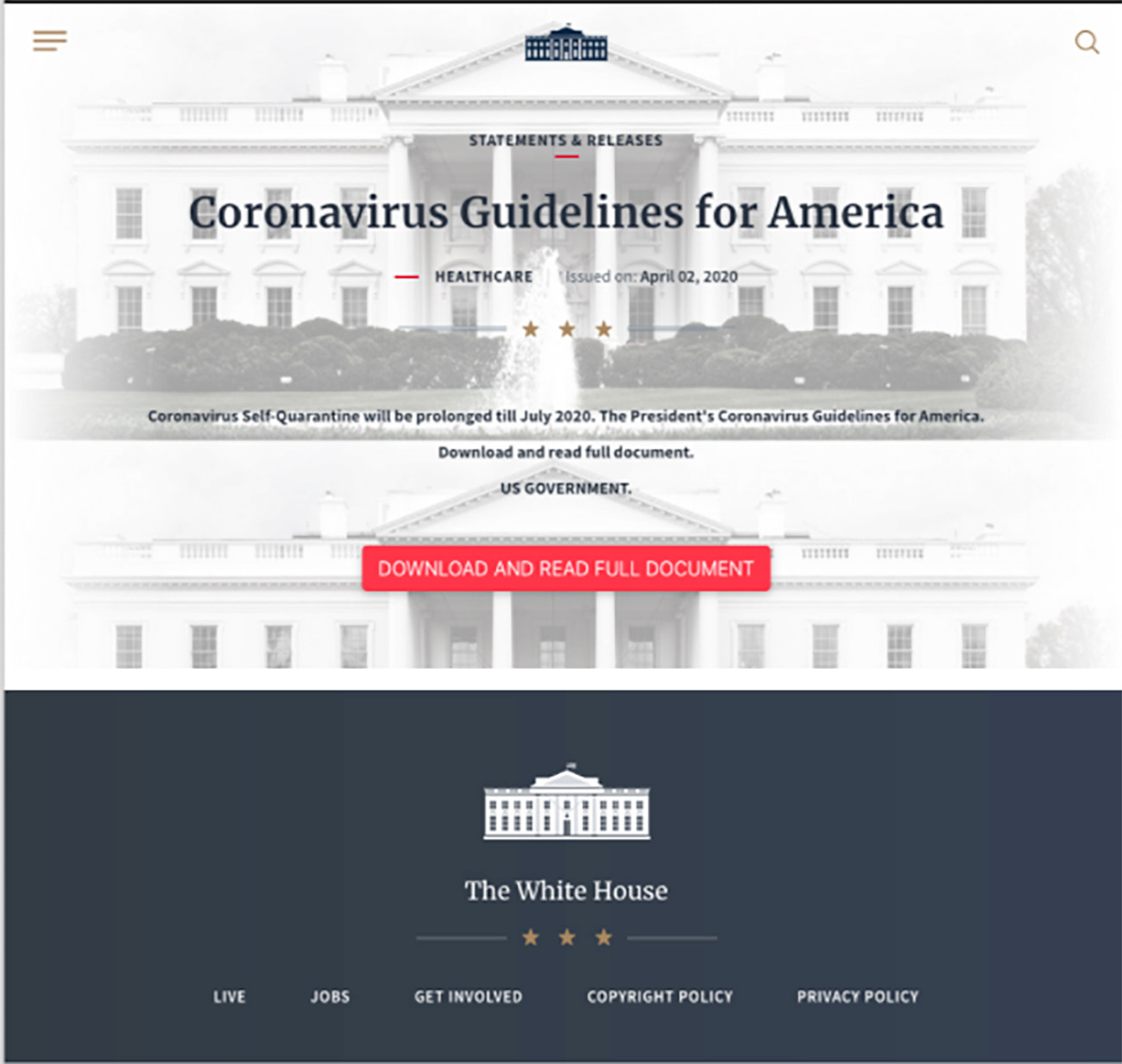 Anti-phishing firm INKY disclosed that they tracked the email addresses and attacks' origin all the way back to Russia. It raises a lot of eyebrows and concerns regarding our email datasets and who to trust.
This phishing scandal is just one of many that are taking unjust advantage of the needy and fearful population. Many of our inboxes must be flowing with an overwhelming number of Coronavirus related emails. They claim to offer new insight, local cases and important guidelines. So rather than clicking a suspicious link, just Google it first!
Mike Pence Phishing Emails Scam
In another news story from the fake White House, someone is impersonating current US Vice President Mike Pence in an extortion scheme. The recipients of this email are mostly business owners who are threatened by the scare of involvement in illegitimate activities.
It says that the Vice President just had a meeting regarding their company security and found them guilty of everything from money laundering to sex trafficking. Such emails prompt the users to come to a settlement with Pence before his meeting with the President. This scam will mainly be dependent on guilty recipients who may reply back and are willing to pay cryptocurrency in exchange of silence.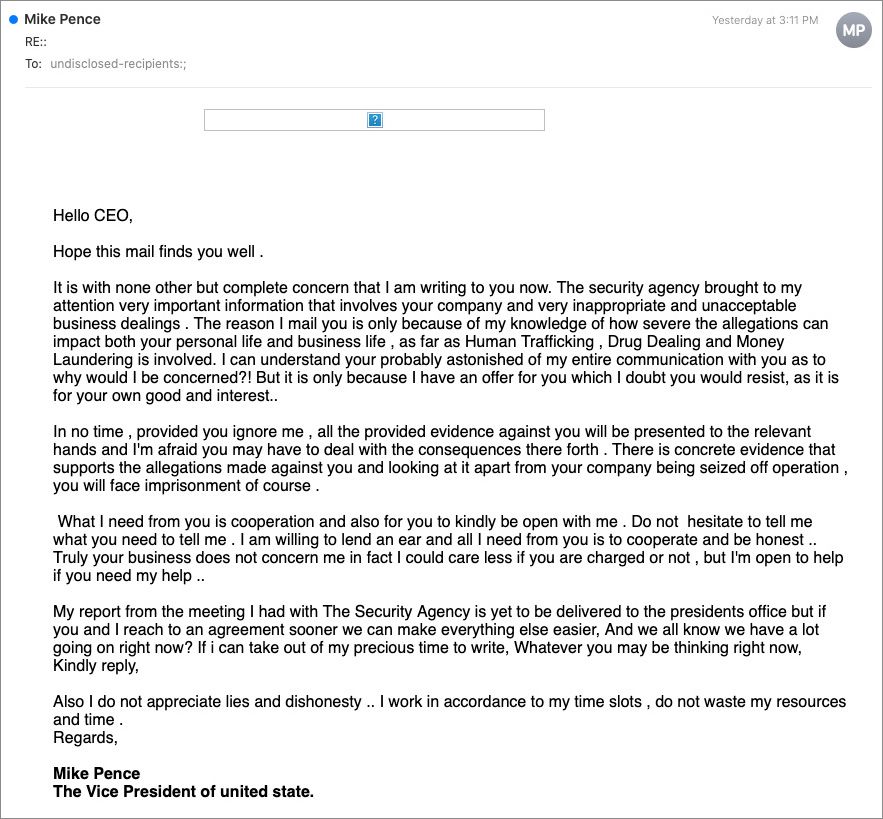 With everyone stuck and working from home now-a-days this is one of the best times for email phishing scammers to come alive. Don't fall for their traps.
Stay Safe, Stay Alert!
If you are interested in reading INKY's full campaign report, please click here.