Since the implementation of the infamous Coronavirus lockdown, most organizations are struggling to survive and manage employee payrolls. But few companies like Zoom Video Communications, Inc has skyrocketed in user engagement, brand recognition and sales. All thanks to the essential global lockdown. Though there are other video conferencing tools like Facetime, Skype, Google Meet, BlueJeans and others; Zoom provided an ease, low cost and abundance of cool features in comparison, that made it the first choice for most of the world population.
Why Zoom Became Popular: Comprehensive Feature List
Like we said above, Zoom came in like a wrecking ball, and kind of destroyed everyone in the way. It unexpectedly accelerated to a triple digit growth in 2020, with the most effective form of marketing - Word of Mouth. Not just corporate and team meetings, people are opting this tool for personal hangouts as well. So let's quickly measure, what is it about zoom that makes it so attractive:
Dedicated web, desktop and mobile applications
Smart meeting scheduler with reminders
Create contacts, channels or import entire cloud contact book
No need to sign up to accept an invite, and attend as guest
Facility for Private rooms as well as public urls
Record any meeting - with audio, video and any activity in between
Screen Sharing with advanced settings like:

Whiteboard
Smartphone connectivity
Additional Camera view
Share computer sound
Selective portion of screen

Personal audio/ video mute options
Voice detection will toggle to active speaker
Waiting room feature where host approves participants before accepting
Gallery, Grid, Video-only views of participants
Beauty filter and custom backgrounds to make videos more fun
React with emojis for a more interactive session
Lucrative HOST options for allowing or disabling individual participant settings
Collect data from meeting attendees
A collective scribbling/ annotation session
Create co-hosts for multi-management
Ability to host up to 1000 participants
Muliple easy keyboard shortcuts
Real time transcription with Otter.ai
Zoom Official Integrations

Slack
Facebook and Workplace
Salesforce
Skype
Google and Chrome, Calendar, Drive
Firefox
Microsoft and Outlook, OneDrive
Dropbox
And more
Click here to download the official Zoom Application for all platforms and devices.
Zoom Meeting Getting Hacked: Is Zoom Safe to Use?
With great power, comes great responsibility. That holds completely true in Zoom's sudden success case. With millions of user data, and a continuous stream of huge group meetings, cyberattackers sought it as a perfect opportunity to showcase their talent, as they too might be bored of the lockdown.  
Because this heavy traffic was a new load level for Zoom, they were not prepared for certain instances, which enabled hackers to spread onscene and mischievous messages on random zoom video calls. This term popularly came to be known as ZOOMBOMBING.
Don't forget to checkout our full detailed article on Zoom Security Tips where we've covered topics like:
What is Zoombombing
How hackers are hacking Zoom
How to Prevent Zoom Bombing/ Zoom Hacking
How to stay safe from Zoombombers
How to Stop Scribbling on Zoom App?
Random scribbling on Zoom shared screen or whiteboard is one of the most provoking activities these cyber attackers are exploiting; and we wanted to diagnose all problems and solutions for it.
To begin with, if you don't know how to scribble on Zoom, it's quite simple. This will only happen once you share your screen, and will see an 'Annotate' pencil icon in the overhead toolbar. It further gives you multiple options to choose from like- spotlight, text, draw, erase, etc. But the tricky part is that all members of the meeting get access to this Annotate toolbar, and hence can scribble on the shared screen.

This comes in handy for most online teaching classes, but some mischievous/ hacking elements can misuse to spread nonsense, hate or profanity. To provide a long-term solution, it will be even more important to know who is scribbling in Zoom. So for all the solutions related to Scribbling on Zoom App problems, follow the simple steps below:
Firstly, use the 'Eraser' tool to remove the scribbling, text or lewd drawings
Then in the original overhead toolbar, go to the 'More' option and click on 'Disable Attendee Annotation' to block all members from scribbling.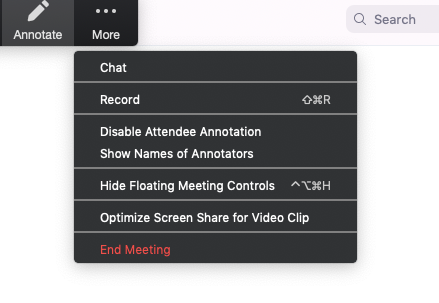 How to Find Who is Scribbling in Zoom?
Moreover, on how to find who is scribbling in zoom, click on the option below 'Show Names of Annotators'. It will not show you the previous scribbler's name, but will enable 'name' privilege for any future offenders.
If we've missed answering any of your questions, please comment below and we'll soon reach back to you with an adequate solution.