Apple follows a 'walled garden' strategy for its wide range of products – With strictly closed environment and regulations for not only its hardware/ software, but also associated 3rd party applications. Clearly, no other brand puts as much scrutiny on its smartphones, and that is probably what excites researchers, hackers and 'reverse engineers' to dedicate their time on releasing iPhone Jailbreak tools.
What is Jailbreak (iOS)? Is Jailbreaking Safe?
Jailbreaking is gaining privileged root access in iOS/ iPhone to manage Apple restrictions, mainly for software and app installations. Jailbreaking, typically gives a user full control of the device's OS, granting otherwise restricted permissions like customizations and app installations. This is mostly done through pushing modified code into the Kernel, to bypass the iOS signature checks or disable them.
With earlier versions of iOS 3, 4, etc. Jailbreaking was much easier and more common, but gradually Apple has become more rigorous with its guidelines and security policies. The mega giant's main selling point is iPhone/ iPad's simple and controlled user experience, so naturally they would oppose Jailbreaking, as the compromised custom solutions might not feel ideal for their audience.
But revisiting our above question, it is completely safe and 'legal' to try jailbreaking, but because Apple doesn't encourage this, that's why jailbreaking your new iPhone will affect your warranty.
Unc0ver v5.0.1 Jailbreak
The UnC0ver jailbreaking tool has been a trusted solution for many throughout the years. Much to everyone's delight, the developers team behind this program, released their newest version over the weekend as Unc0ver 5.0.1, and quickly followed by the updated version Unc0ver 5.0.1.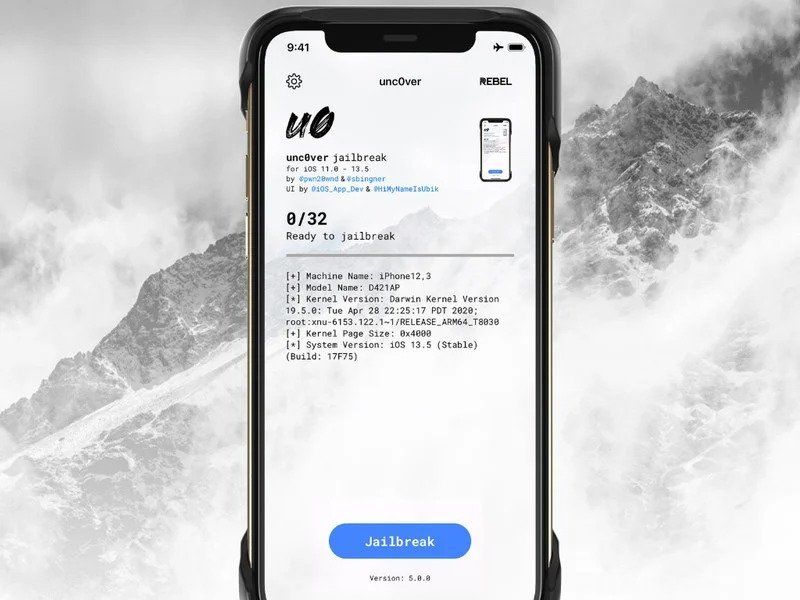 This updated new tool unlocks all recent iOS, iPadOS versions starting with:
iOS 11.0 -11.4.1
iOS 12.0 - iOS 12.2
iOS 12.4
iOS 13.0 - iOS 13.5
iPadOS 13.0 - iPadOS 13.5
*Note: This jailbreak software does not work on iOS 12.3 - 12.3.2 and 12.4.2 - 12.4.5
Below is the complete list of devices supported by UnCover v5.0.1:
iPhone: 6/6 Plus, 6s/6s Plus, SE, 7/7 Plus, 8/8 Plus, X, XR, XS, XS Max, 11, 11 Pro, 11 Pro Max
iPad: Air 1/2/3, Pro 1/2/3 generation, Mini 2/3/4/5, 5/6
iPod Touch: 6, 7
As stated above, Uncover 5.0.1 works on the current iOS 13.5 operating system as well, which is a huge deal as the last time it happened was in 2014. Unc0ver lead developer 'Pwn20wnd' explained that they were able to achieve such success because of an iOS zero-day vulnerability, currently unknown to Apple.
Unc0ver 5.0.1 zero-day vulnerability was discovered by Pwn20wnd, and is a milestone in itself as every other jailbreak since iOS 8 uses 1-day exploits. Due to this very reason, those older jailbreaks were quickly patched in the next software update or hardware (wherever needed). iPhone owners interested in jailbreaking their device would generally wait for it to get outdated. That's why Unc0ver v5 is such a breakthrough!
Unc0ver iPhone Jailbreak Benefits
Unlike most jailbreaks, Unc0ver 5.0.1 provides abundant features and advantages, by working to enhance your device, rather than restrict its permissions/ privileges. Let's a take a look at some of the highlights:
Compatibility with all latest devices iOS 11.0 through to iOS 13.5 (Refer to the list above)
iOS in-built services will still work, for example, Facetime, iMessage, iCloud and others
Doesn't drain battery life
Unregulated storage access
Stable release utilizing sandbox exceptions
Doesn't disable future software updates (But beware of installing any update that contains patch for Unc0ver v5.0.1 zero day vulnerability)
Easy installations with Cydia and Tweak injectors
Limiting hacking risk by providing a highly secure environment after jailbreaking. This is done by keeping security layers for user apps and system intact
Unc0ver installation is supported by with or without computer on - iOS, macOS, Windows and Linux systems.
Out of all Apple devices, the iPhone has been most criticized for its security solutions. Recently Siguza, an iOS security researcher and one of the key developers in Unc0ver 5.0.1 has rolled out a Psychic Paper Exploit that allows 100% access to your private data. One news reports, that a single email can hack your iPhone, while another suggests that a simple text bomb causes your iPhone to crash immediately. While all such rumors are engulfing Apple's iOS, the release of Unc0ver 5.0.1 might prove to be a hit with current users.
Unc0ver Download (v5.0.1)
You can download Unc0ver 5.0.1 here.
For how to jailbreak iPhone with Unc0ver, please read the detailed installation guide for iOS, macOS, Windows and Linux, by clicking here.
For installation of Unc0ver without computer, please click here.